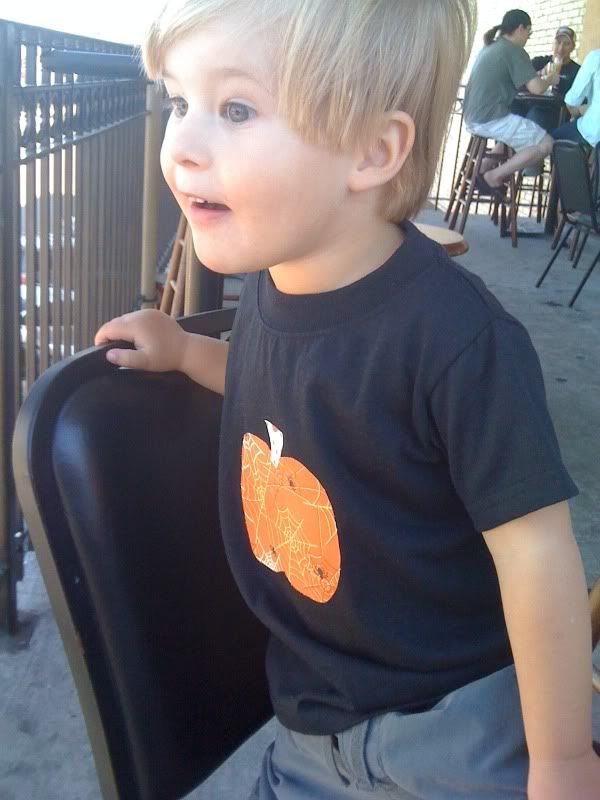 Tripp needed a pumpkin shirt!
So, what is a mama to do? Make one of course! But, recall, I am not handy with a sewing machine and hand sewing can only take me so far in this life. I could have ordered one, but a cute little appliqued or embroidered shirt would run $20-$25. Did I mention my husband is a full-time student?
This is where my thriftiness comes into play.
Solid tee: 50% off at Hobby Lobby...a whopping $1.50
Fabric Scraps: sometimes free, but these I did pay maybe $2 for a huge bundle of fall themed scraps
Stitch Witchery Fusible Webbing: $1.99 per yard
Optional Embroidery Thread: $0.35 each
So, the grand total for this shirt comes to less than $2 taking into account the amount of the various supplies I used! Yay!
Now the How-To...
Decide on your desired pattern and take your material and cut an approximate sized piece. Take that piece and use a hot iron and iron it to the fusible webbing according to the instructions. For this particular brand, it's simple. Iron it to your fabric with the webbing onto the wrong side of the fabric. Next, draw your design on the paper side of the fusible webbing and keep in mind that it will be reverse.
Here is my pumpkin stem drawn onto the webbing. You can see where Tripp assisted me in the process :)
Cut out your design.
This is the finish pumpkin applique patch.
When you are ready to apply the patches to the shirt (or whatever), peel the paper off the back of the webbing.
Mocked-up and ready to be heat set onto the shirt.
Once you have your pieces into place, take the hot iron and press into place for about 30 seconds (or according to manufacturer's instructions on your fusible webbing). And VOILA! You are done!

A custom shirt for about two bucks! It really is easy and does not take much time. No sewing required and I didn't even have to break out the hot glue gun!
However, you can take it one step further and hand embroider in some details or do a simple
blanket stitch
around the edges for a cute folksy look. Typically I will do this but, Tripp was eager to wear his shirt Sunday when we went to
Restaurant Tyler
for brunch on Sunday. After washing it without having done the embroidering, the teensiest bit of the edges frayed and it added it's own detailing that I really like. So, I may not do anything to this one this time. Also, if you are sewing machine inclined, your applique is also now ready to be stitched in. But, I will repeat, NONE of this is necessary. The fusible webbing is permanent. The other adds additional reinforcement and detailing and that is all.
Now I have a stack of blanks for both the boys and my niece to work on for the rest of Autumn and I've got lots of sugar plum fairies dancing in my head for cute winter holiday designs too!
Go make your own!