Autumn is my favorite season. Football, tailgating, cooler temps, beautiful colors, celebrating the season of harvest, the approaching holidays...I could go on and on.
I had the best of intentions for the Autumnal Equinox this year. I was going to put out all my fall decor, start our first day of our homeschool "preschool" with all these grands ideas and bake some pumpkin bread. Or something like that...but alas, life got in the way with a sick toddler and mama and a teething baby, not mention a hubby whose amount of schoolwork is ridiculous. So, a few things have been done, but TODAY, we got into gear.
Our version of homeschool for the meantime, is an eclectic mix of unschooling, waldorf philosophies and a classical style among others. I thought it would be fun to have some sort of direction and Tripp loves him a routine. So, I decided to do a "letter/number of the week" and just apply it to things we are normally doing just with an added focus on that particular letter and number. What better place to start than the beginning! So, this week we're going with 'A' and '1' :)
Nothing says Autumn and 'A' like apples! So, we made apple printed shirts for the boys and then, Tripp stamped away on various pieces of paper.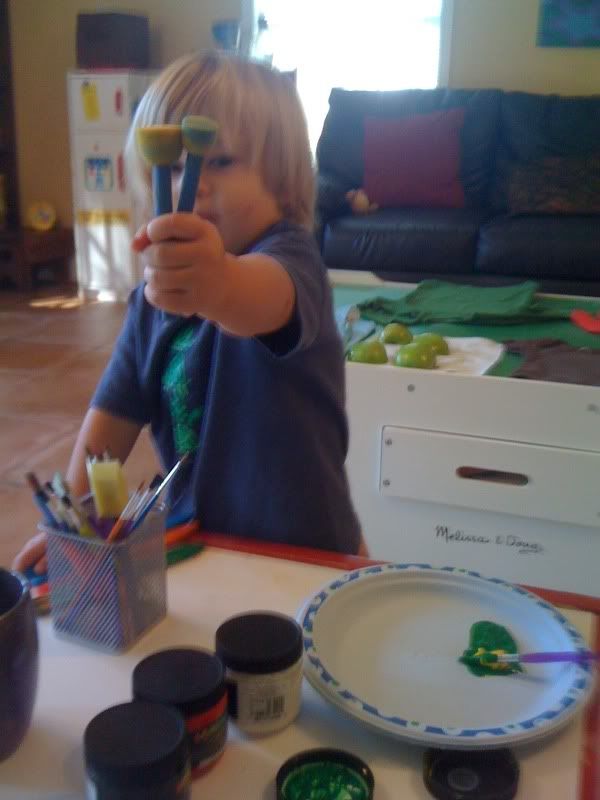 Excuse the mobile phone pics, the camera was charging. Getting our supplies ready!
Stamping himself a shirt :)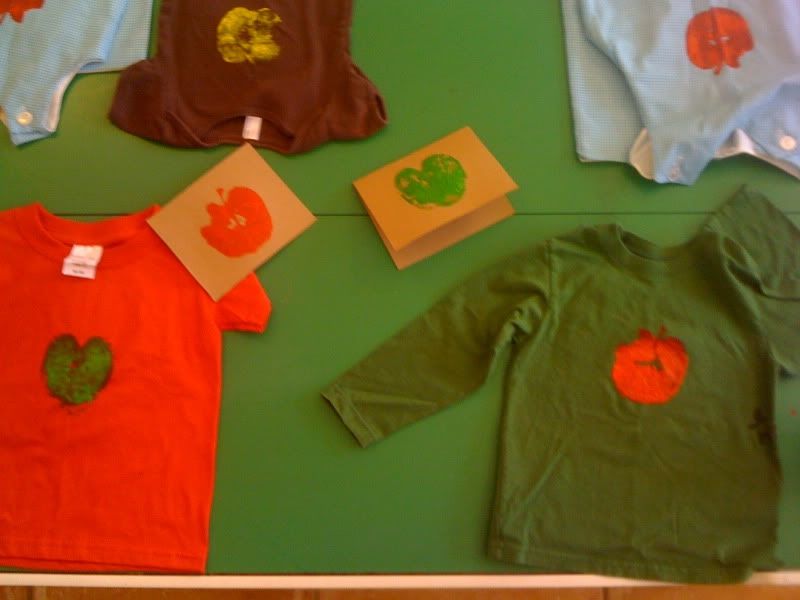 Finished Products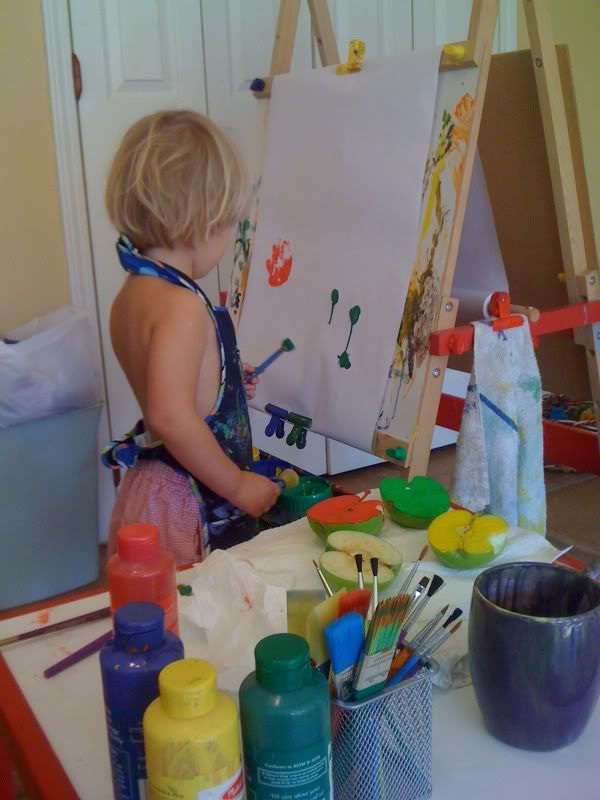 The artist at work.
Lately, when he finishes any of his various creations, I have been asking him about his work and what he wants to call it. This one he dubbed "Apples and Spoons".
One of my other schemes for the first day of fall was to set up our nature shelf. A nature table is an essential aspect of any Waldorf or Montessori classroom and home. Ours is a shelf, so what? ;)
Tripp has rearranged this probably 100 times today. I mean those gnomes have to sleep in the big shell after cooking mushroom and eggs and sitting on their rock chairs counting acorns!
Painting our Autumn eggs in lovely shades of the season. And yes, just in his undies. The boy is not the biggest fan of clothing, so be glad he had those on for the moment.

Finished eggs, a couple of mushrooms and a little piece of petrified wood from his "treasure bag", aka an old Charlie's Soap bag full of his rocks.
Our little gnome friends.
I should make them some cute fairies to hang with...maybe tomorrow.
One more reason I love this time of year...
The French doors both flung wide open all day long and we can just enjoy the beautiful fall air.